There's no doubt Autumn is here – it's been raining and leaves are turning yellow and orange. Today as I listened to the wind chimes jangling I started to think of comfort food, and since I have one of the seasons first home grown pumpkins waiting to be used this recipe was a natural choice. I don't like to brag but my pumpkin soup recipe, refined through the years, is getting pretty good. It helped win my fiancées heart when I cooked it on our first date and if you choose to use it as a love potion too I can nearly guarantee your success.
Use the ripest pumpkin you can find – the flesh should be a deep yellow to orange when cut, depending on variety and the stem should appear dry. I used a butternut (also called a squash in some parts). Some recipes call for the pumpkin to be roasted to deepen the flavour before it is boiled but if you start with a ripe pumpkin, I don't think it is necessary – although by all means give it a go if the pumpkin isn't as ripe as you'd like. I suggest about 1kg of pumpkin but more or less is fine, depending on how much pumpkin you have. I used about 2/3 of the monster below.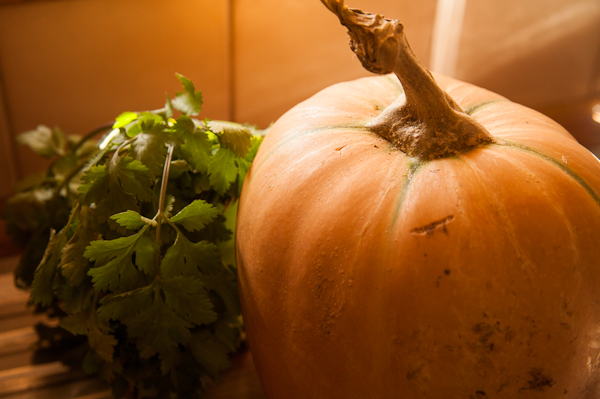 Ingredients
1 large carrot
1 large potato
1 brown onion
1 ripe pumpkin (about 1kg / 2lb)
1 liter of stock – chicken or vegetable. Or water if you don't have stock.
1 rasher of good smoky bacon or pancetta
2 cloves garlic
1/2 tsp nutmeg, freshly grated if possible
1/2 tsp turmeric
1 tsp paprika
1 tbsp olive oil
1 tbsp butter
salt and pepper
To Serve
1 small bunch of coriander (cilantro)
sour cream
1. Remove the bacon rind. Finely dice the bacon, onion, carrot and garlic. Add to a large saucepan over medium heat with the butter and olive oil.
2. While you're stirring the onion etc, roughly dice the potato and peel and dice the pumpkin. It's easy to peel the pumpkin by cutting thick slices first, then cutting the skin off each slice.
3. Once the onions are starting to look transparent, add the potato and pumpkin and stock. If there isn't enough stock to cover the pumpkin top up the pan with water. Bring to a boil, then reduce the heat and simmer until the pumpkin is soft and falling apart – about 1 hour.
4. Stir in the paprika, nutmeg and turmeric and simmer for another few minutes.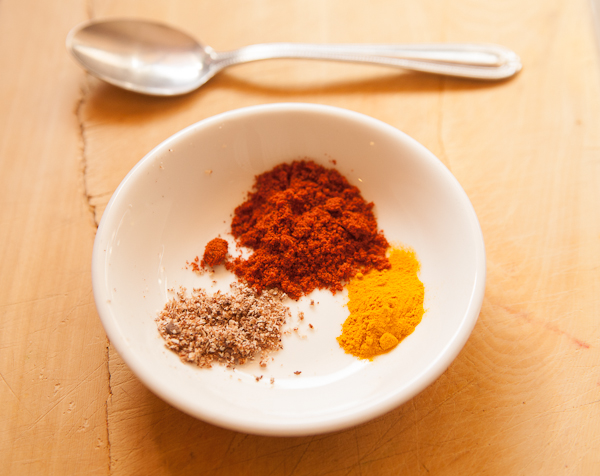 5. Remove from the heat and allow to cool slightly. Use a hand blender to puree the soup in the pan until it's smooth and creamy.
6. Taste and season with salt and freshly cracked black pepper to your taste.
7. Ladle into bowls and add a spoonful of sour cream to the middle of each one. Use a fork to twirl the sour cream in a little whirlpool pattern, but not so much that it is mixed in – just leave a few trails. Scatter each bowl with a little chopped coriander. Serve with a nice crusty white bread and butter.
More:
A good hand blender is the easiest way to get the soup nice and creamy – this Cuisinart one comes in every colour you could want.
Pumpkins are easy to grow if you have a little space, and very rewarding. Here is a pretty good guide.
My recipe is 'straight' pumpkin but I love a curried pumpkin soup too – here's a take on that (and they make it look so good…)