A staple in my families diet is some variation on bolognaise sauce – a rich, tomato and meat based sauce (although we do a vegetarian version with red lentils too) plus whatever vegetables are around, served with pasta. Zuchini, eggplant, capsicum and mushrooms all make an appearance at times but this is the classic version that we make for pure comfort food. My recipe probably isn't far from many others – it isn't a complex dish but so rewarding to make well with good fresh ingredients. I don't use a lot of meat because I think the sauce should accompany the pasta but not dominate it. Traditional bolognaise recipes sometimes add a little milk or cream when nearly finished – I haven't tried that yet because I like the rich version so much! Traditional recipes also use chicken liver, but at risk of excluding myself from the rest of the foodies I'm not a huge fan of eating offal.
Note – Katie Caldesi writes in The Italian Cookery Course that smoky bacon is overpowering in bolognaise sauce but I don't agree (although the book is excellent). However if smoky bacon isn't liked it can be replaced with a good non smoked bacon or similar cured pork, like pancetta, guanciale, or even diced salami.
Ingredients
1/2 kg (1lb) ground beef – as often as not I use packaged mince from the supermarket but when I have time to grind my own the difference is very obvious.
1 rasher good smoky bacon
1 stick celery
1 carrot
1 onion
2 tins plum tomatoes or tomato passata
1 glass red wine
1 small sprig rosemary –  about 1 tsp when diced fine
1 generous pinch dried oregano – the stuff to look for comes from the flowering heads and is a tan/green colour, crumbly with a pungent smell. Plain dried oregano leaves don't have so much flavour.
1 pinch chilli flakes
1 bay leaf
3 cloves garlic
olive oil
salt and pepper
Method
Dice carrot, onion, celery and bacon as fine as practical. Add to a large saucepan or frying pan over medium heat with 2 tbsp olive oil, bay leaf and finely chopped rosemary.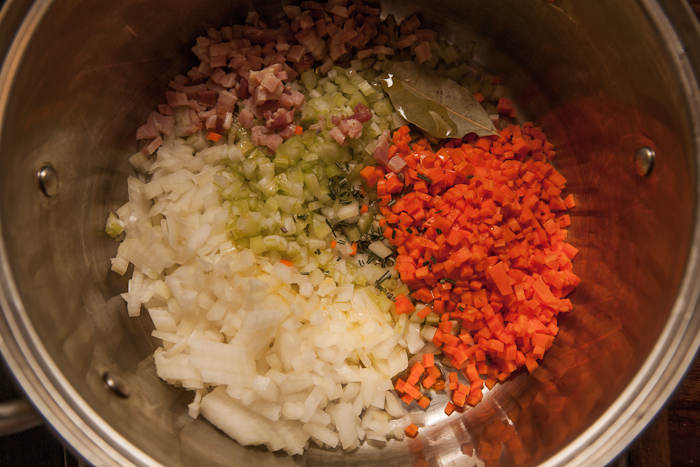 Stir regularly until well cooked, about 10 minutes. The onion should look translucent and starting to brown and the other vegetables should look soft. Remove the vegetables and set aside.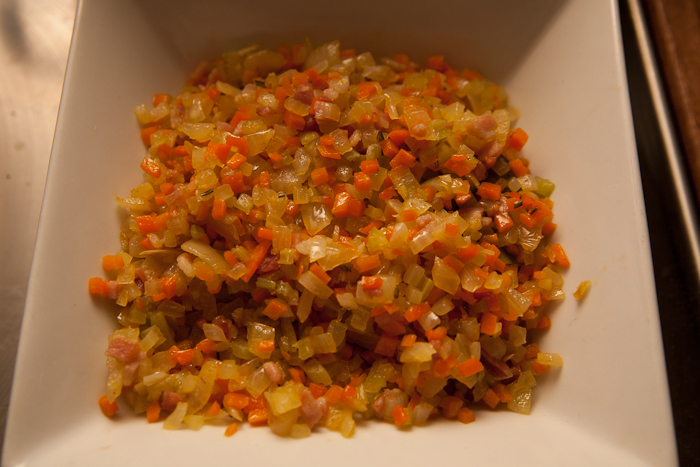 Add 1 tbsp olive oil to the pan and tip in the ground beef. Stir now and then until the beef is well browned.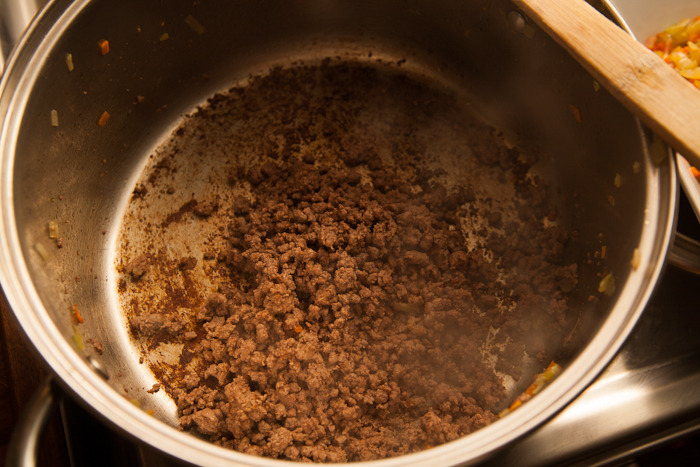 Crush and dice garlic and add to the pan together with the vegetables and 1/2 glass of wine. Scrape the bottom of the pan to loosen all the tasty browned bits. Stir the mixture over medium-high heat until the wine is bubbling. The rest of the wine is for the cook to drink while they are hard at work!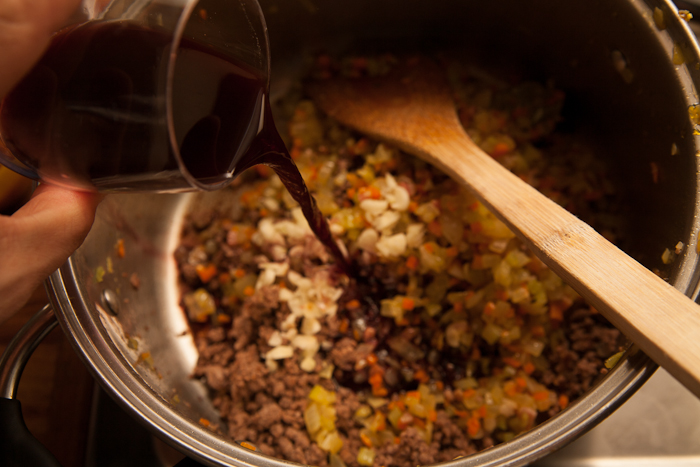 I picked up the next step from FX Cuisine . Tip about 1/2 cup of tomato mixture in to the pan and stir until most of the liquid has boiled off. Continue to stir for a minute over high heat. Concentrating and browning some of the tomato like this adds another layer of flavour.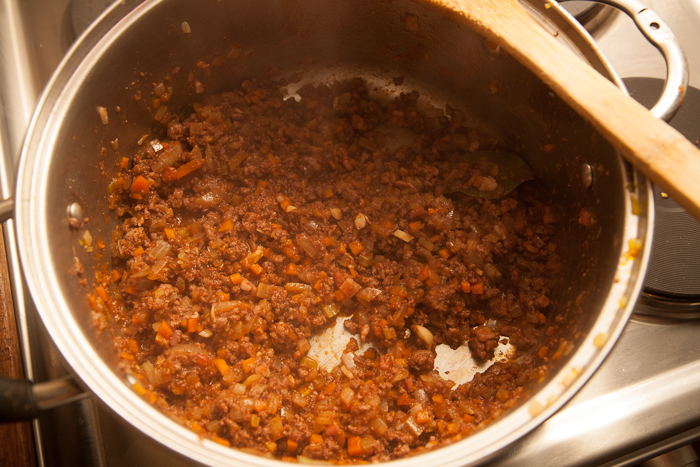 Add the rest of the tomatoes, chilli flakes and oregano. Use a spatula to smash the tomatoes until large chunks are broken up. Half fill the cans with water, swish around, and add the water to the pan too. Reduce to medium heat and simmer for 45 minutes or more, until fairly thick. If the sauce boils down and becomes too dry before 45 minutes is up, add just a little more water. When done, taste and add as much salt as is needed.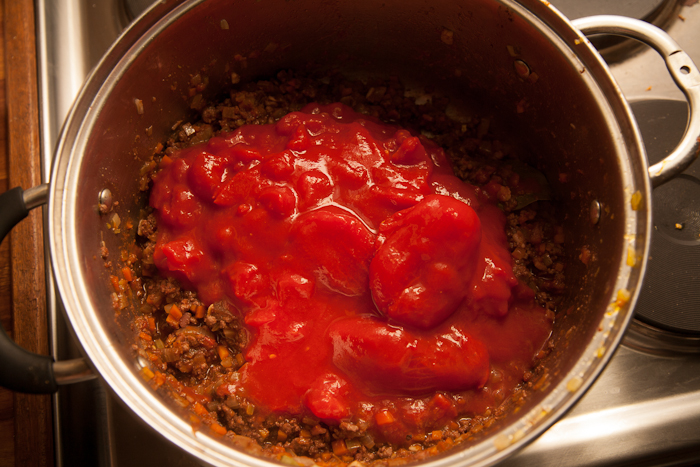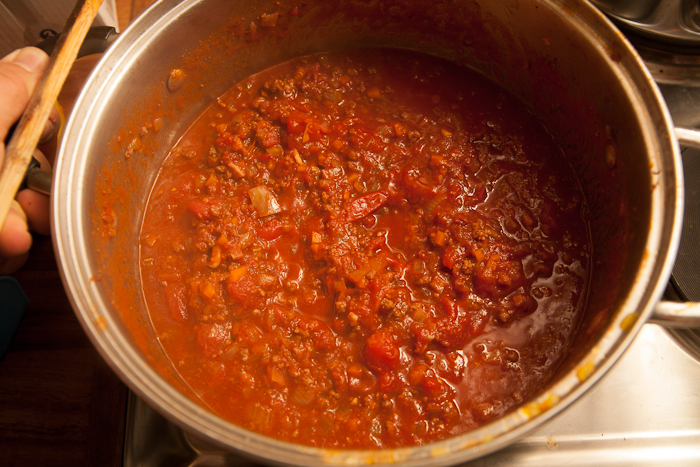 Bring your largest pot of water to a rolling boil and add a few tsp salt. Cook pasta until done. This sauce is great with a pasta with some body like fettucine or tagliatelle. Normal spaghetti doesn't really do it justice despite the name of this recipe – I served it here with fresh bigoli made with semolina, a very fat type of spaghetti with rough edges. I've seen the wisdom of tossing cooked pasta through the sauce to coat it well – the extra flavour in each mouthful is hard to argue with. Use tongs or a pasta server to lift a serve of pasta into each bowl, then spoon more sauce over the top.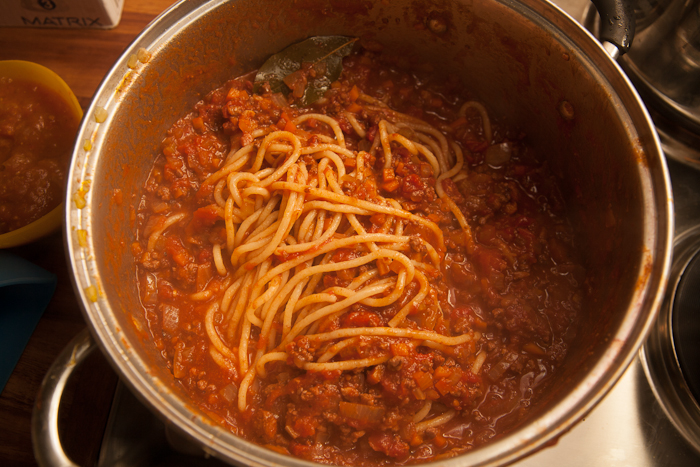 Serve with grated parmesan and cracked black pepper.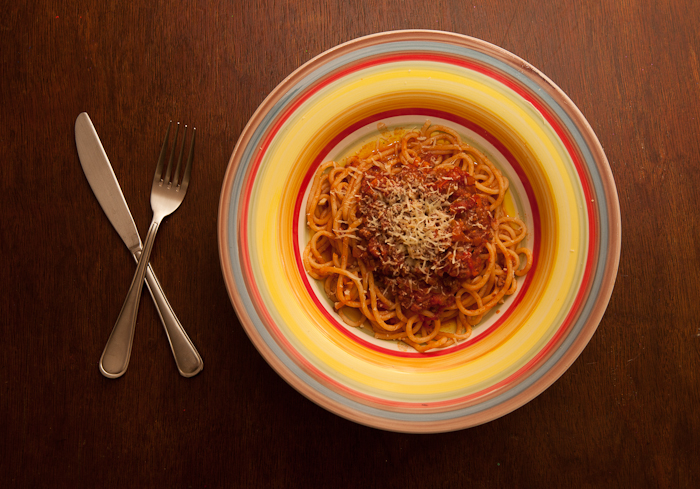 If you liked this…
Spaghetti Bolognese? No Thanks! – A great little Kindle ebook for $3.50 from an Italian about which recipes are and aren't authentic – I enjoyed it. You can read Kindle books on PC, even in a browser directly now so you don't need an actual Kindle.
All about bolognese sauce on Wikipedia – interesting historical facts for real food nerds
Maggie Beer's version, with chicken liver
Treat yourself to some good quality spaghetti for this dish
This version adds cream at the end and combines pork and beef – worth trying