This recipe is another that I was eager to try from Artusi's cookbook. I don't know if I've got it exactly as described in the book yet but it's a delicious late night munchie as much as a great idea for an appetiser. The recipe is as simple as a slice of cheese between 2 discs of polenta, dipped in crumbs and fried. This is a good appetiser to have up your sleeve as it is very easy to make gluten free – instead of using bread crumbs, either use dry polenta or a gluten free bread crumb,  I use one called corn crispy crumbs that I actually prefer to regular bread crumbs. Or you can leave it un-crumbed and just fry the polenta directly which also works well.
1 1/2 cups water
1 cup milk
1/2 cup polenta
1 tbsp grated parmesan
about 100g gruyere or other tasty swiss cheese, sliced
1 egg
1/2 cup bread crumbs
To make the polenta mix milk, water, polenta and parmesan in a large microwave save container – I use a ceramic casserole dish. The parmesan is optional but the polenta may be a littlebland without it. Stir well and set aside for a few minutes to start soaking up the water. Microwave the bowl of polenta for 4 minutes, remove and stir well. Wear oven mitts as the bowl and steam are very hot. Return to the microwave for another 2 minutes, remove and stir, then a final 2 minutes. Spoon out a little bit, blow on it and taste to make sure it is creamy. If still at all gritty it can be microwaved a little longer.
Pour out the polenta onto a large oiled chopping board or baking tray. Use a wet knife or the back of a spoon to flatten the surface as much as possible – Artusi says to "spread it out to the thickness of barely half a finger". Mines a little too thick here. Allow to cool and set – it's a little faster in the fridge.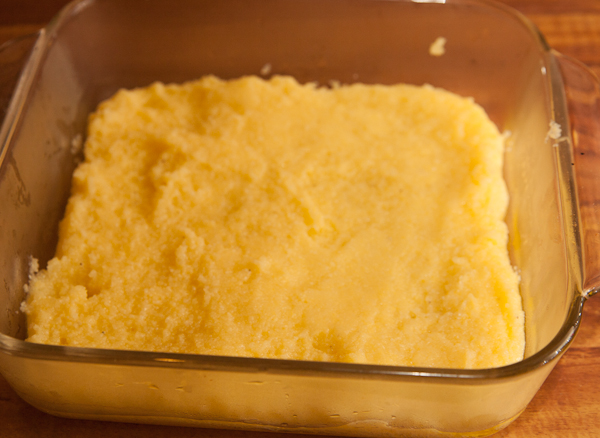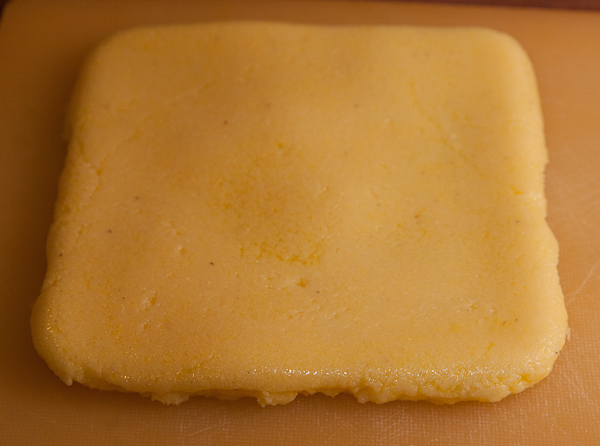 When set, use a cookie cutter to cut out circles of polenta.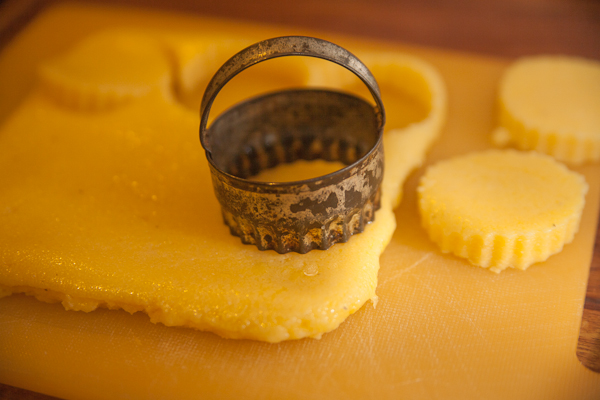 Lay a slice of gruyere or other cheese between 2 discs to make little sandwiches.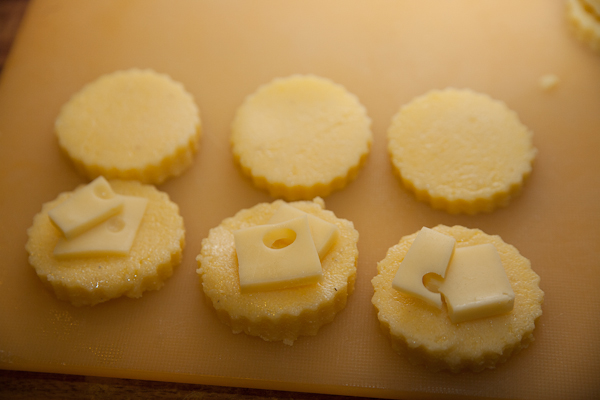 Crack an egg into a bowl, beat lightly and pour crumbs into another bowl. Dip each sandwich into egg, then crumbs. Fry in a good glug of olive oil. I find anything crumbed is always best fried over fairly moderate heat so that it can cook through without the crumbs burning.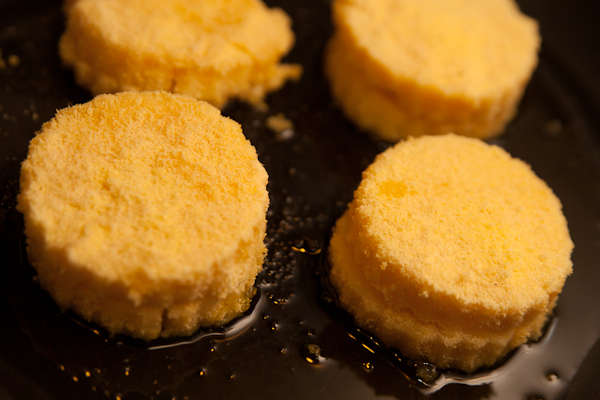 So far we've just wolfed these down out of the pan but I think they'd be good with a sauce too – maybe some kind of chutney?