A peel is one of the most useful tools in the pizza-makers arsenal. Peels can be bought fairly cheaply online or at most good kitchenware suppliers.
You can also make your own peel easily using sheets of medium plywood. They might not look quite as nice, but they will work fine! I have a couple of homemade peels as well as a bought one, and the extras come in handy at pizza parties where lots of guests want to get their pizza ready at the same time.
You will need:
Medium thickness plywood – look for around 3-4mm thick (1/4″)
An electric jigsaw or hand coping saw.
Sandpaper
Method
1. Start by tracing out the design of the peel. The basic design is a square with a handle at the back. You can round the corners here and there for appearance. Here's an example of the shape you are aiming for.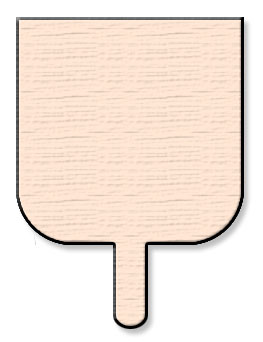 2. Make it a little wider than the size of the largest pizza you think you'll make – eg a bit bigger than your pizza stone. Just make sure it will fit in your oven!
3. Once you have cut out the shape, use sandpaper to clean up any rough parts around the edges. You can also use sandpaper to create a slight slope on the front edge of the peel to help slip under your pizzas more easily.
4. Before using the peel, rub some cooking oil into the wood with a clean cloth and allow to stand to soak in.