Having a few friends and family members on gluten free diets, a good gluten free pizza recipe has been a bit of a holy grail for me over the last few years. This recipe is the closest that I have come – and it is quite delicious!
Recipe
150g White rice flour
80g Tapioca starch
30g Fine polenta
6g Guar or xanthan gum
6g Sea salt
10g Sugar
10g Baking powder
25ml Olive oil
1 Egg (this can be omitted to make a vegan base, add a little more water instead)
Method
In a large mixing bowl, stir all of the dry ingredients together.
Add the oil, egg and water and stir until the mixture is smooth. The consistency should be a thick, sticky paste.
Shaping the bases
Place 2 squares of baking paper on a bench or peel and give them a light coat of oil.
Before handling the mixture drizzle some olive oil into the bowl, and rub a little into your hands. This makes the bases much easier to shape and handle.
Separate the mixture into 2 equal size lumps and place one on each square of paper. Drizzle a little more oil over the lump of dough.

Using the palms of your hands, start to press the dough into a pizza shape. Try to get an even thickness of about 4 millimeters.

Smooth any cracks around the edge and create a slightly raised rim.

The base is now ready for your toppings! Once topped, use a peel to lift the pizza and greaseproof paper and slide onto a preheated pizza stone to bake.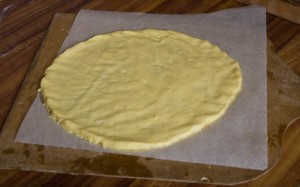 See the article on toppings to see how this pizza looked fresh out of the oven!