The price of Kale in my local shops is surprisingly high given how easy it is to grow – in the garden it doesn't seem to need as much water as some things once it is established, and produces lots of leaves over a month or more. I find  Kale seductively beautiful with its chunky dark green leaves and strong flavour.
Here is my little Kale patch – nearly time to plant some more.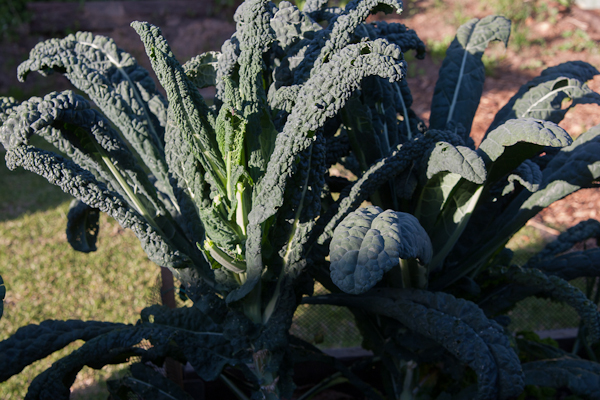 I often make quiche or bean & Kale stews but I'd never heard of Kale chips until I found a bag for sale at a health food store. Unfortunately the bag I bought tasted a bit like garden mulch so I was interested to see if they tasted any better home made. The result really surprised me – these babies are not just delicious "for Kale", they are delicious full stop! My first tray full hardly made it out of the oven.
Method
Cut or tear the large central stems out of each leaf. You can just squeeze the central stem and run your fingers down it to tear it out easily.
Wash the leaves and dry them well – I used my  salad spinner.
Mix a few glugs of olive oil with any seasonings – I used salt, paprika and a clove of mashed garlic.
Toss and turn the leaves in the oil until well coated.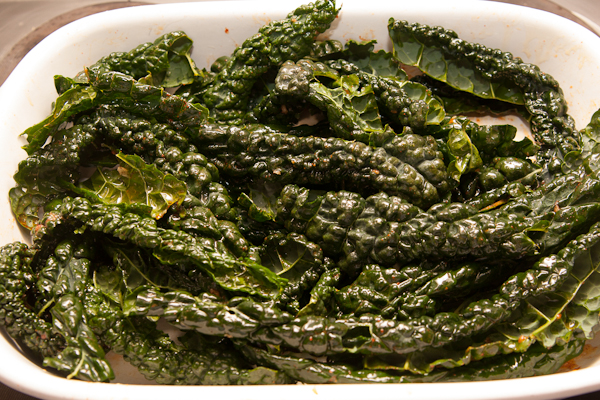 In a low oven, bake in a single layer on a baking tray until the leaves are completely crispy. I went with 160C for about 20 minutes, turning part way through.