Rye bread is one of my favourite things to eat so recently I have been learning more about making my own. Rye is a bit tricky to handle compared to wheat flour because of its natural stickiness and lack of gluten but once you get the hang of it the reward is a spicy more-ish flavour with a moist dense crumb. Of course I can't experiment with an ingredient without seeing if it can make a pizza and rye pizza dough seemed like something I had to try. Here it is, ready to eat! This was a good pizza, my favourite of the night.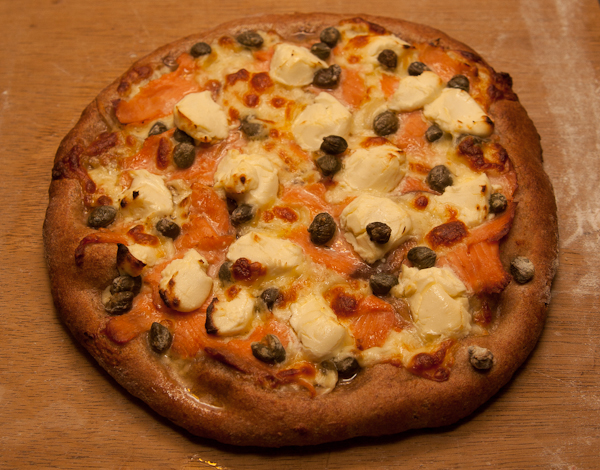 Rye pizza dough ingredients – makes two small-medium pizza bases
300g Rye flour (around 2 cups but weigh it if possible). I used whole rye flour which is also called dark rye flour. Light rye is the equivalent of 'white' flour made from rye, with bran sifted out. Either should work but the amount of water needed might be different for light rye.
6g salt (1 teaspoon)
3g Instant dry yeast (1 teaspoon)
220ml water ( a bit more than 4/5 cup)
Stir the dry ingredients together in a mixing bowl, then add most of the water and stir well. Continue to add water until a workable dough is formed – it will be more like a putty than wheat based doughs. I use around 70% hydration for whole rye doughs, it would be interesting to try a wetter dough but frankly this dough is already hard to handle!
Cover the bowl and set aside for 10 minutes before kneading. Rye is challenging to work with and will stick like glue to your hands. There's not that much you can do about it (wear gloves? Use an electric mixer?). Knead for a few minutes, then divide into 2 balls and set aside, covered, to rise for at least 2 hours. As always the dough will be better if it is left in the fridge overnight and removed a few hours before use.
Because this dough is so sticky, I recommend assembling the pizza on a sheet of baking paper. You can shape the base, top it, and slide it paper and all onto a preheated pizza stone. Remove the paper after a few minutes of cooking. When shaping the base I aimed for a thickness of about 3mm (3/32 in). It is a bit harder to pick up and stretch a rye dough because it doesn't have as much gluten as wheat so handle it gently.
Smoked Salmon & Caper topping
Rye can handle bold flavour matchups. I was thinking of a smoky bacon/mettwurst/tomato combo but settled on smoked salmon, capers and cream cheese which is a pretty classic combo with rye bread. I didn't think it would need any tomato sauce. Cream cheese is great on pizza, just use teaspoon sized blobs and they'll crisp up on the outside and be light but gooey inside. I laid a few slices of mozzarella underneath to help it all stick and finished with a drizzle of olive oil.
As can be seen from this last sorry slice the base is not as dense as might be expected.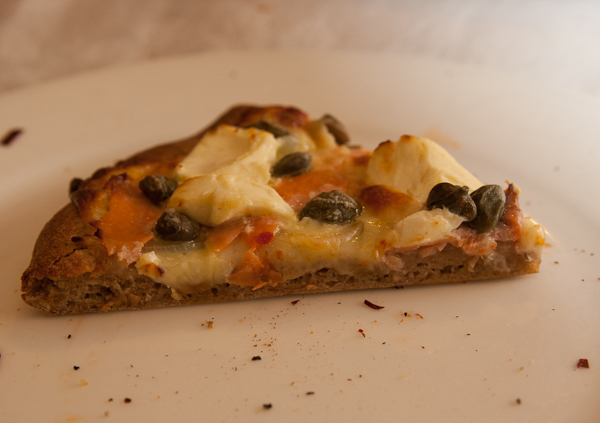 Conclusions – I'll be making this again but be warned that it's a very different thing than wheat based pizza. The rye is fairly dense and not as chewy – I think of it as more of a topped flatbread than a pizza although of course those things are pretty similar. If you give it a go, let me know what you think!