Taralli are one of those snacks that sound simple but deliver so much flavour that you can't stop till you've eaten way more than you should. They are basically ring shaped bread sticks, often made with fennel seeds but also other flavours like chilli flakes or herbs. They are shaped, briefly boiled to give them a nice smooth skin, then baked until crispy. Yesterday I had some spare sourdough starter to use so I made a sourdough batch. If you don't have sourdough handy just use a 1/4 teaspoon of yeast.
Ingredients
2 cups plain white flour
1/4 cup sourdough starter
level tsp salt
1/2 cup water + a little more for adjusting the dough
1 tbsp whole fennel seeds, or any other flavours. Oregano flakes or chilli flakes are nice. I think you could use grated parmesan too but I haven't tried it yet. You can also make them plain.
Method
Mix all ingredients together. Add more water, 1 tablespoon at a time until the mixture is smooth but not too sticky. Turn out onto a board or clean benchtop and knead for a minute until smooth.
Put the dough in a covered bowl and leave until it has risen noticeably but not significantly. With my sourdough starter this was 4-5 hours. If you're using instant dried yeast 2 hours will likely be long enough.
Bring a pot full of water to a simmer; drizzle a little olive oil into a large baking tray.
Divide the dough into pieces about the size of a large grape, eg about a heaped teaspoon.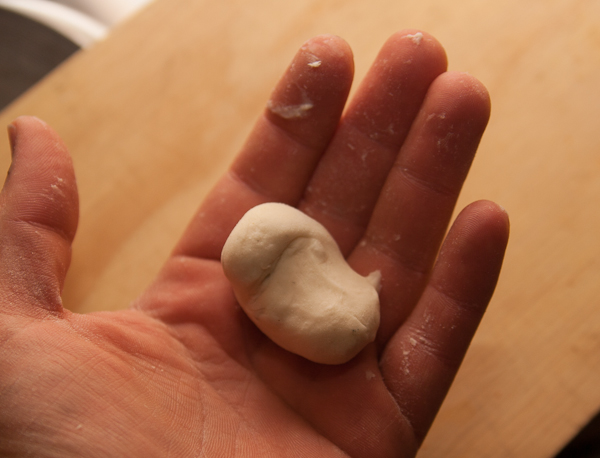 Roll each piece between your hands to make a snake about 10cm /4 inches long and 1cm / 2/5 of an inch thick.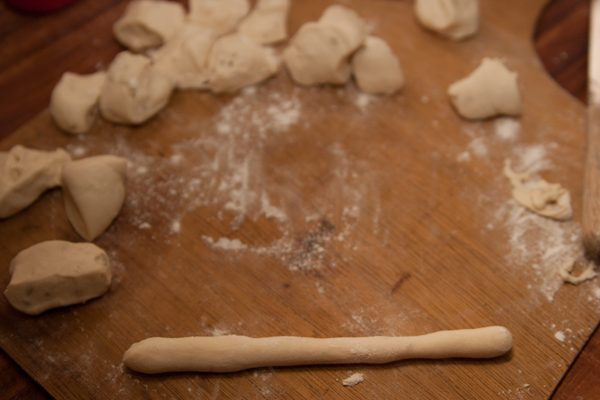 Make a ring out of the snake and give the ends a squeeze so they stick together. Each ring needs to be boiled for about a minute, until it floats, then scooped out with a slotted spoon and transferred to the oiled tray. If you work fast you can drop them into the water as you go – otherwise add them in batches.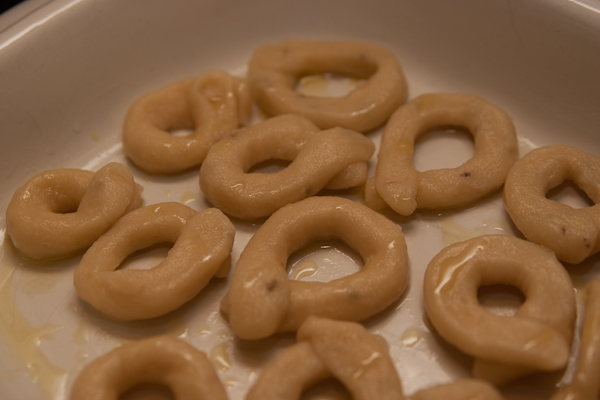 When all of the Taralli have been boiled put the tray into a medium oven, about 180C/350F for an hour. Check them now and then; if they are getting too dark reduce the heat a little. After an hour carefully prod a few to see if they're cooked – they should all be hard and crispy.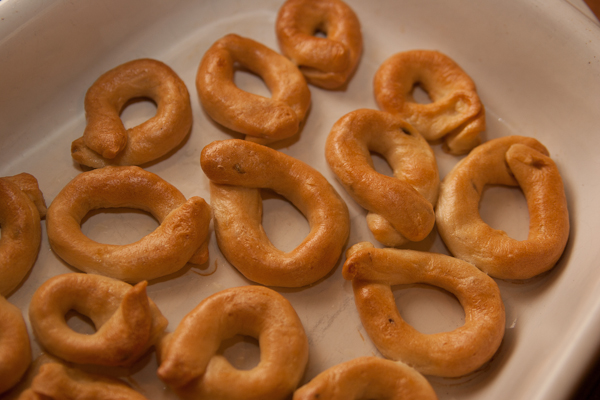 If they are still soft cook a little longer. When done, eat one as soon as you can without getting burnt and let the rest cool down on a rack.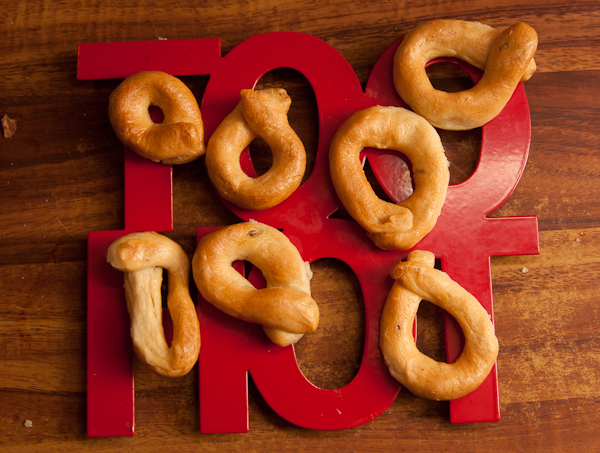 Store in an air tight jar or snap lock bag.