The apple season has just finished where I live. To preserve some of the fruit my parents made a big solar drier and have dried a lot of apples from their orchard. I was thinking about warm bread last night while I looked at a stack of these dried apples and had a lightbulb moment – apple sourdough!
Fruit sourdough is delicious with the contrast between tangy bread and sweet fruit, and I added just a touch of spice. Although I used dried apple any fruit would work. I submitted this recipe to the yeastspotting blog too – check it out, plenty of inspiration there if you need some.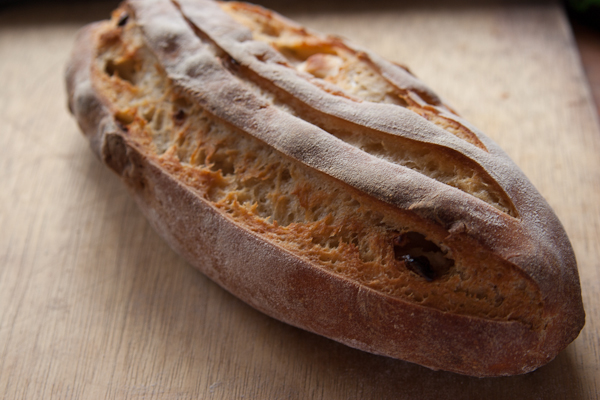 Ingredients
400g (about 3 1/2 cups) white flour
1 handful of dried apples (or other fruits) cut into in smallish pieces
1 tbsp honey
1 generous pinch of powdered cinnamon
1 Tbsp active sourdough starter
6g (1 tsp) salt
about 1 cup of filtered water
Mix all dry ingredients together. Add sourdough starter and honey and stir in. Add most of the water and mix well. Continue adding water until the dough is workable and not too sticky. Allow to rest for 10 minutes, then knead for a few minutes or until smooth. For more detail, see my post on making a sourdough loaf.
Leave until well risen – mine took overnight.
Shape into a loaf by flattening out the dough into a sheet about 2-3cm (1 inch) thick and longer that it is wide.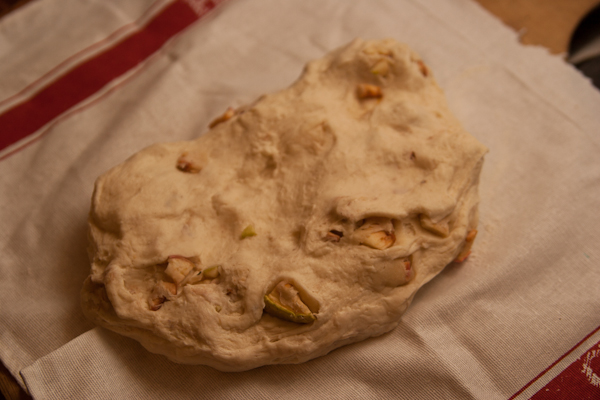 Fold one third of the dough over itself.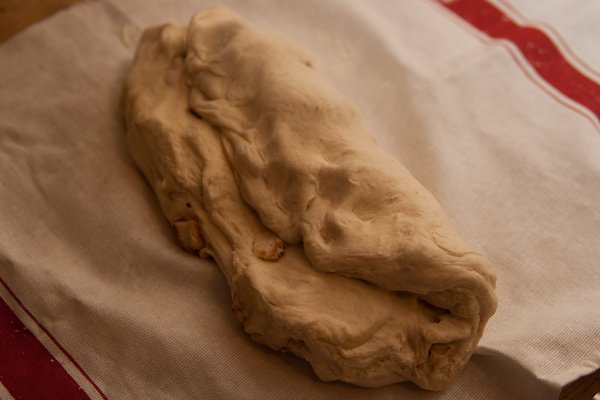 Then fold over the other third to make a cylinder. Pinch shut along the seam. Turn the loaf over so the seam is on the bottom. This folding gives the dough some internal structure that helps stop it sagging as it rises.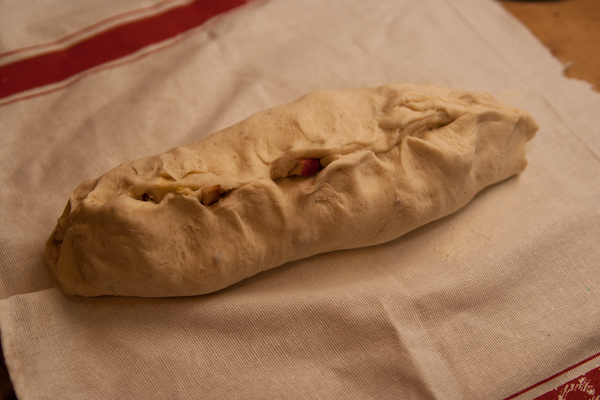 Set the loaf aside, covered with a lightly floured cloth until it has risen noticeably again – mine took another 2 hours.
I bake bread in an old aluminium roasting pan. I cooked with the lid on for 30 minutes at 230C (450F) for 30 minutes, then took the lid off and baked another 15 minutes to let it brown up.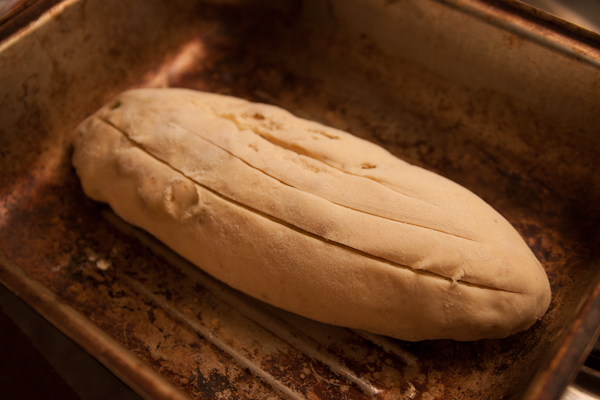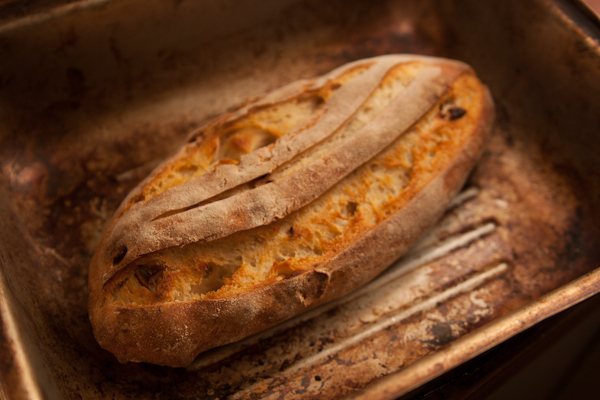 Slathered with good butter, this bread was a success! The apple rehydrated slightly but still gave a concentrated hit of tart/sweet flavour that worked with the sourdough.