This pasta is taken from the recipe described in Pellegrino Artusi's Science in the kitchen… and is the first of many recipes I want to try from this book. The shapes are very easy to make, and although a little time consuming the end result is worth the effort. The double loop shape is excellent for holding sauce and it feels good in the mouth, almost like a little dumpling. Interestingly all of the examples I could find described as Strichetti are in the bow tie shape rather than this double fold – although the principle is similar, these hold sauce much better. Artusi serves these in broth but I suggest a rich tomato based sauce to serve. I put the sauce in the bottom of the bowl first, then ladled the pasta straight from the pot onto each bowl of sauce, then spooned over a touch more sauce and added parmesan and pepper. Treating the pasta gently like this let it keep its shape very well.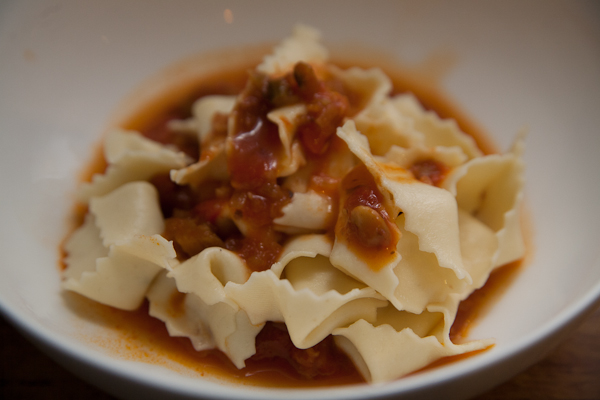 This recipe makes an entree for 4 or a meal for 3.
Ingredients
2 eggs
200g plain white flour. If a firmer texture is liked, substitute 50g plain flour for fine semolina.
Method
Tip most of the flour into a large mixing bowl, keeping a little aside.
Crack eggs into the bowl and stir with a wooden spoon or fork until there are no more lumps. If the dough feels too sticky to handle easily, add a bit more flour at a time until no longer sticky. It's much easier to add more flour to a sticky pasta dough than it is to have to knead in more liquid to a very stiff dough! When the dough is workable without being sticky, knead for a few minutes until smooth.
Cover the pasta in a bowl or wrap in glad wrap and set aside for 15-20 minutes.
Flatten dough as much as possible by pressing or rolling on a benchtop before feeding through a pasta machine. Pass through the widest setting a few times, folding the strip in half each time.
Divide the strip in 3, then start feeding a strip through progressively narrower settings on the machine until the right thickness – #2 on my machine. Of course, you can just roll it with a pin instead of using a machine.
Lay the strip on a lightly floured board. Use a fluted pastry cutter to cut strips "a finger and a half wide".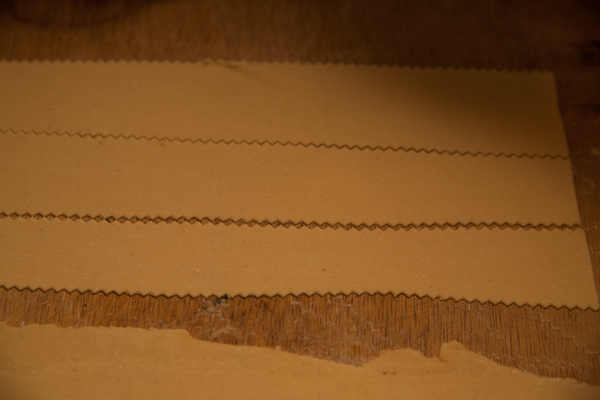 Then cut on an angle to get diamond shaped pieces.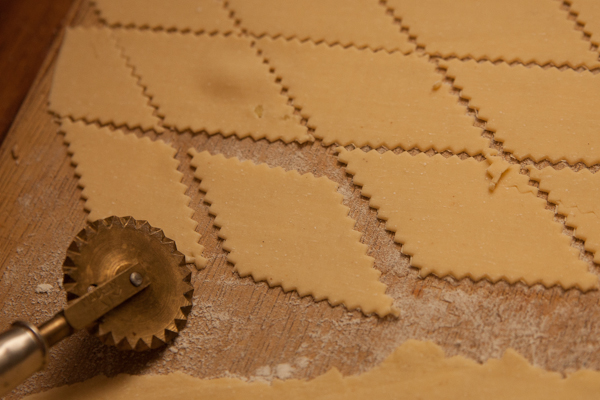 To shape the pasta, pinch 2 opposite corners together firmly.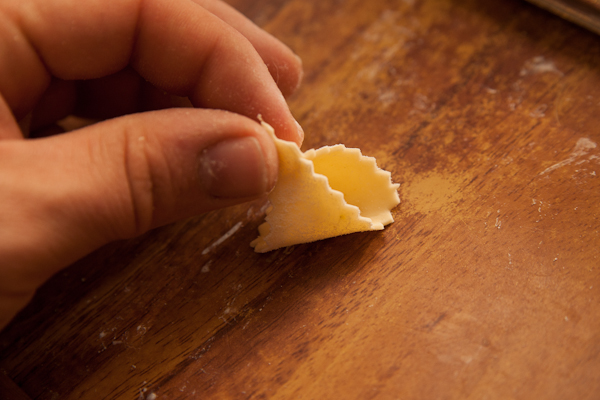 Then turn around and pinch the other 2 corners together on the other side. Repeat for each diamond before rolling out the next piece. Work fast so the pieces don't dry too much – I roped in the family to help.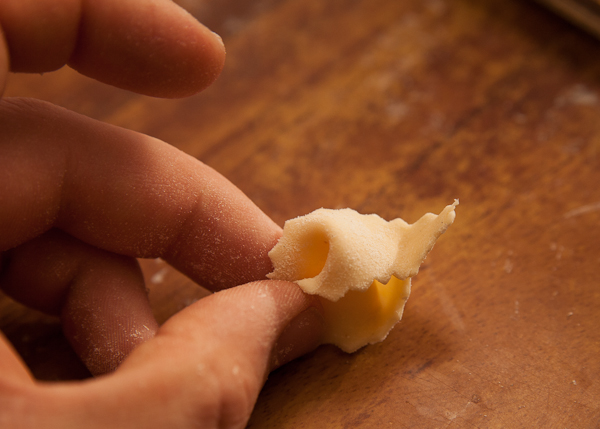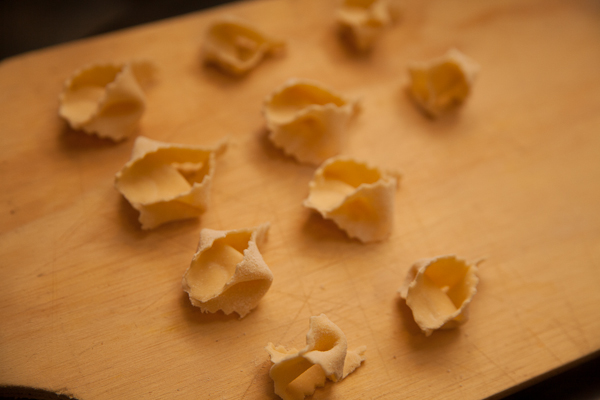 To cook, bring a large pot of water to a rolling boil with a few tsp salt. Add the pasta, and be ready to start tasting them for done-ness soon after they float to the top. Mine took about 60 seconds after floating up to be cooked to my taste.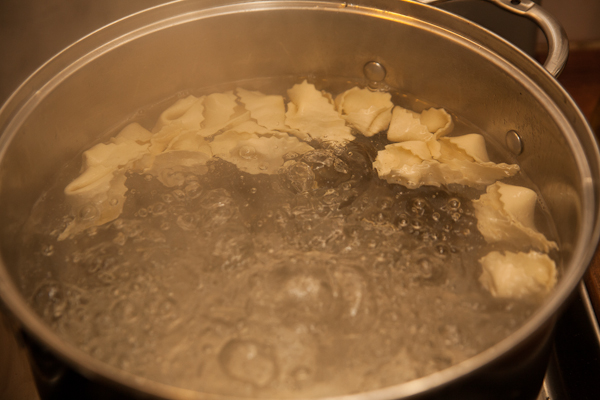 You can do without a pasta machine if you don't mind a bit of work with a rolling pin, but a fluted cutter like this one is worth having for this and lots of other pasta shapes! I found my lovely brass one on ebay second hand.