Tomato season is over, just a few stragglers on the vines plus a few that will never ripen now. Yesterday I helped pull down the plants and trellis from my mums tomato patch to make room for something else. I came home with a big box of green/orange/red tomatoes for making delicious green tomato relish. Its great having a few jars of homemade chutney and relish around – they keep well in or out of the fridge because of the vinegar. A sandwich made with this relish on good bread with a nice sharp aged cheddar is heaven!

I based my recipe on Stephanie Alexander's indispensable The Cooks Companion, but I added apples too since I have some nice ones to use. This is a spicy relish with lots of subtle flavours, but you can change the spices around as you like. Cumin is great in chutneys and relishes so often I use that too.

Ingredients
1kg (2lb) tomatoes – a mixture of green and ripe ones. All ripe tomatoes can be used too for a richer sauce. If you can't find green tomatoes any supermarket ones will do. See what I did there?
1/2 kg (1lb) apples
1/3 cup white wine vinegar
1/2 cup sugar
2 tsp seeded mustard
2 tsp Garam Masala
1 tsp mustard seeds
1 tsp paprika
1 tsp salt
1 tsp cornflour
1 pinch powdered clove
1 pinch chilli flakes
1 pinch turmeric powder
Variations
Not everyone likes sultanas in relish but if you do, add half a cup. If you have vincotto, add 1-2 tsp for a hint of sultana and caramel sweetness.
Method
Slice tomatoes and onions. Peel, core and slice apples. It's easy to nip out the stem bit of each tomato with the end of a knife but not essential.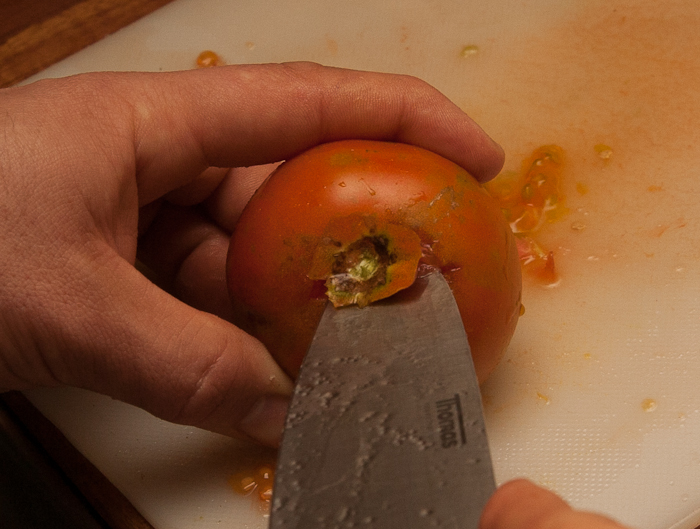 Tip all ingredients except the cornflour into a large saucepan.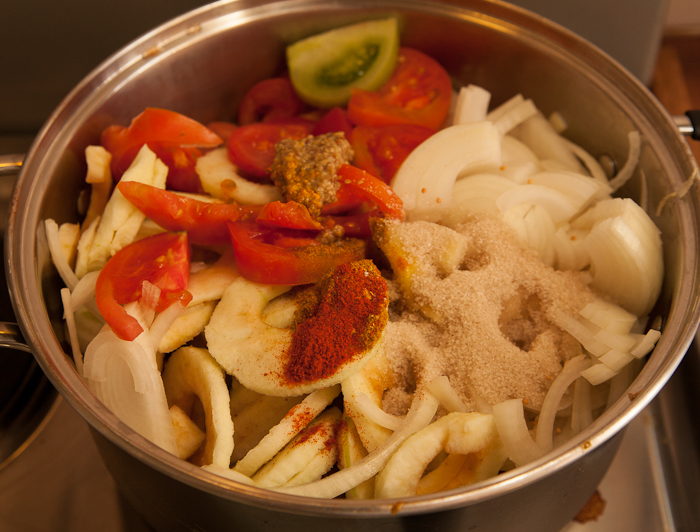 Bring to a boil, then reduce the heat to a simmer. Cook for around an hour, stirring every 10 minutes to check it isn't sticking. Most of the free liquid should be reduced.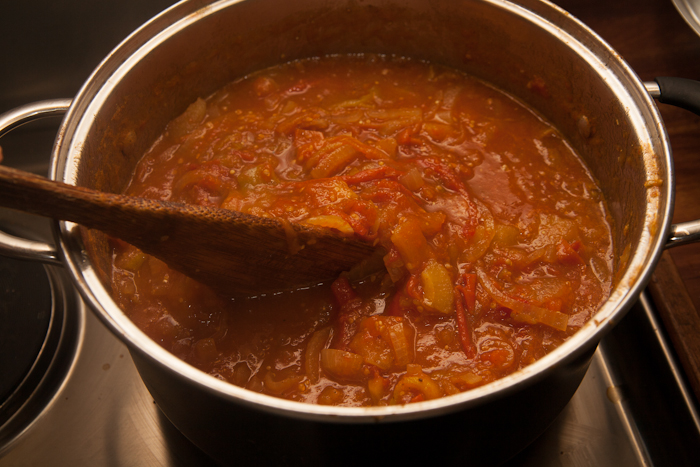 Mix the cornflour with about 1 tbsp water and stir well. Spoon out a little liquid from the sauce and mix with the cornflour paste. Tip the mixture back into the sauce pot and stir well. Simmer for a few more minutes.
Remove from the heat. Use a stick blender to break up any larger lumps, but don't puree it too much – leave some texture.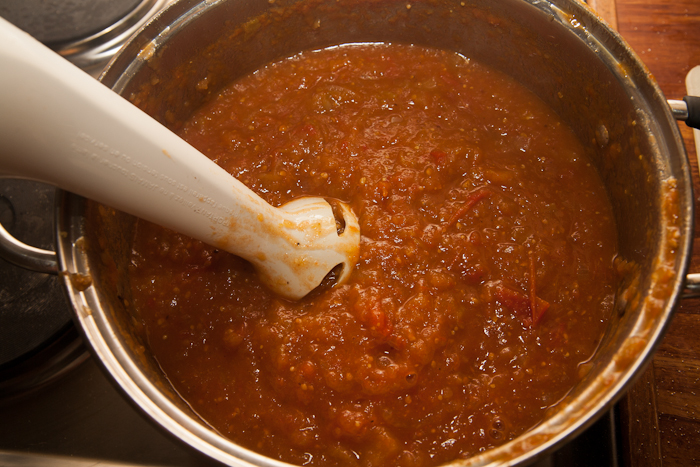 Taste for sweet/sour balance and if necessary add a little more vinegar or sugar to taste.
Pour into sterile jars – an easy way to sterilise jars is to run them through the dishwasher. The vinegar in a relish makes it unlikely to spoil, so you don't need to boil the full jars like you would if canning vegetables. If you want to be extra cautious put the jars in a large saucepan, tip in hot water nearly to the top of the jars and simmer for 30 minutes. I always put a tea towel under the jars when doing this so the jars don't jump around and crack.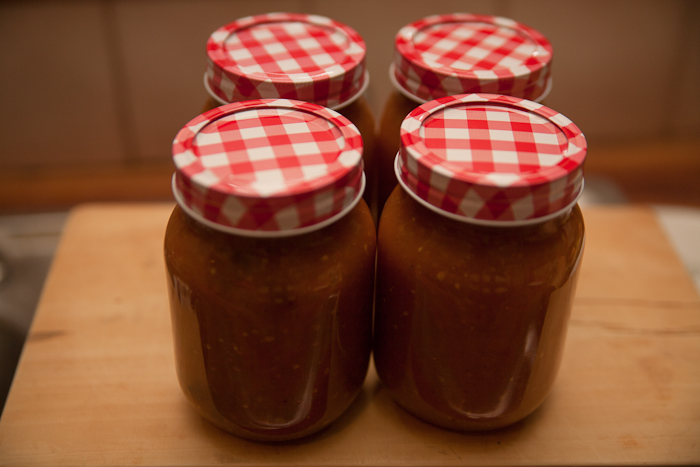 If you liked this…
A Quick Guide to Making Preserves
Home-Made Pickles, Chutneys & Relishes: A practical guide to making delicious preserves at home