I served this as a birthday cake last week. The recipe is another that I have stolen from FXCuisine. I hope he doesn't mind but it's such a delicious gluten free dessert that I think everyone should know about it! I don't normally love buckwheat but in this dish it adds a very interesting counterpoint to the almond flavour. One of the guests described it as like eating a giant friand, and I agree. I took the liberty of replacing some of the butter in this recipe with olive oil but you can replace the olive oil in my recipe with 50g more butter if you aren't so paranoid about your waistline.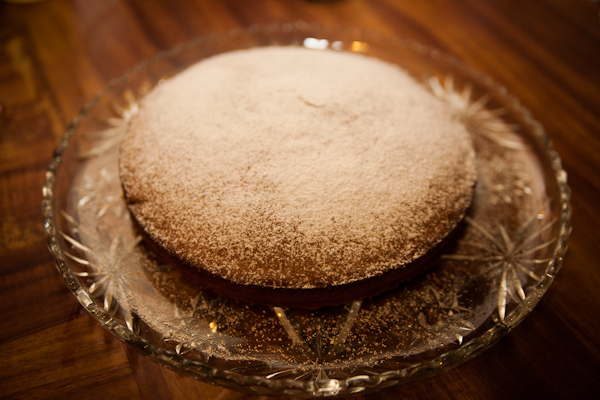 Ingredients
250g Almond meal
200g Buckwheat flour
1/2 tsp baking powder
6 eggs
200g butter
2 tbsp extra virgin olive oil
250g caster sugar
Icing sugar
1 jar of good jam – your choice but I liked strawberry
Method
Separate the egg yolks and whites
Use a fork to mash together the butter and sugar. Mix in the flours and baking powder. Add the egg yolks and mix very well – a hand mixer helps get the batter smooth.
Clean up the hand mixer and use it (or a whisk if you're a glutton for whisking) to whip the egg whites until they make stiff peaks when you lift the mixer out. If using an electric mixer, don't lift it out unless it is turned off or the egg whites will make stiff peaks all over your wall.
Add 1/3 of the egg whites to the batter and stir until they are mixed in. Now add the rest of the egg whites and fold them in more gently until evenly mixed. Adding a little of the egg white first makes it easier to fold in the rest more gently.
Pour the batter into a greased springform pan, or a round cake pan with greased baking paper cut to fit in the bottom. Bake at 180C/350F for about 40 minutes or until the top is golden. You can poke a skewer in to see if it is cooked, but be careful where the hole is, this cake doesn't spring back as much as usual so the hole will be visible afterwards.
When cooked, let it sit in the pan to pull itself together for 5-10 minutes before you carefully remove it to a cake rack to finish cooling.
When cool, very carefully cut horizontally down the middle and use an egg flip to lift the top off. Spread jam liberally over the cake and put the top back on. Put some icing sugar in a sieve or flour sifter and dust over the top.
I served slices with whipped cream and vincotto… yum!
 More
You can separate eggs quite well by just cracking eggs into your hands and letting the whites fall through your fingers. If you don't like getting your hands dirty you can get some cool egg separators – I have one along these lines but you have to see this one too. Words can't describe the awesome.
I made the buckwheat flour in my Nutrimill – there's something nice about making your own fresh flour! I have this model, I couldn't find it on Amazon but they do have a bunch of others. I don't have experience with anything except the Nutrimill so please leave me a comment if you've used other brands.