First off I have to give credit to the incomparable FXCuisine, where I got this recipe for Pasta Alla Norma. If you haven't seen his site, check it out.
Pasta Alla Norma is a Sicilian dish, simple to make but deliciously rewarding. It is made up of good pasta – usually larger shapes like penne -topped with a simple tomato sauce, ricotta salata, basil and fried eggplant (aubergine). I made this when I wanted to offer a good dinner to guests but I was in a hurry that day as this is so simple to make – I made the sauce the day before to save time.If you can find a bronze die pasta like this one it will have a better texture for the sauce to stick to, but don't sweat it too much!
Ricotta salata is a salted and aged version of ricotta, which you can buy here on Amazon (but not sure if they would ship that outside of the US?). I couldn't find any at short notice so I used normal ricotta and while the dish was good, I thought it needed an extra kick that the ricottta salata would have provided. I added some fresh grated parmesan and I recommend using that or pecorino with your ricotta if you can't find ricotta salata either. I've also seen versions of this recipe calling for capers which would have the same effect – you want a punchy, salty ingredient to go with the smooth flavours of eggplant. Serious Eats suggest trying a saltier cheese like sheeps milk fetta as another option. I took this advice for my second attempt at the dish and it was excellent – I mixed equal parts creamy fetta and ricotta, then used that in place of ricotta salata.
The dish is best with a simple but tasty tomato sauce, something like a good can or 2 of  tomatoes blended up  (I use my own preserved tomato sauce) and simmered with some tomato concentrate, garlic, salt and pepper and herbs. I think at a pinch you could use a good jar of simple tomato passata from a store, with a bit of salt and pepper.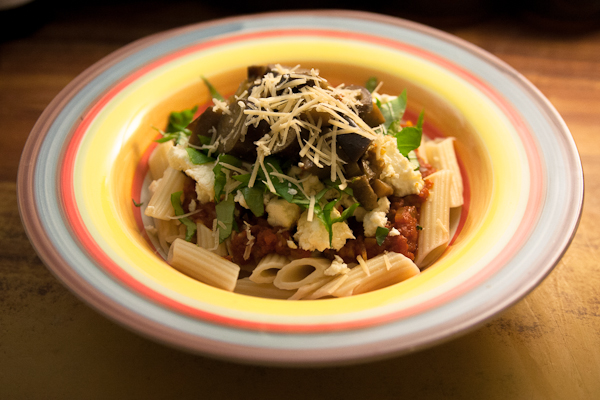 Ingredients
2 Eggplants (aubergines), firm/young ones if possible, diced/sliced
500g / 1lb good quality pasta – penne, macaroni or other larger shapes
4-5 Cloves of garlic
3 Tbsp olive oil
About 2 cups of pasta sauce of your choice (see above)
250g / 1/2lb Fresh ricotta or ricotta salata or ricotta mixed with fetta (see above)
Fresh grated parmesan or pecorino to serve
1 Small bunch of basil
Method
Prepare or heat up the pasta sauce.
Fill a large saucepan nearly to the top with hot water and put it on the stove, high heat. Stir in 1/2 tbsp salt. Put the lid on while it comes to a boil.
Crush and dice the garlic. Add to a large frying pan with the olive oil over medium-low heat, and cook stirring occasionally until the garlic is just golden brown. Remove and discard the garlic (the flavour is now in the oil).
Add the eggplant to the frying pan and cook, stirring and turning until it is all nicely browned. Keep the heat fairly low, you want it to cook through and get golden brown on the outside without burning. This step might take 10-15 minutes.
While the eggplant cooks and as soon as the pot of water is boiling vigorously tip in the dried pasta and stir well. After 8 mins or so start tasting a piece now and then for done-ness. Cook until done how you like it – not so long that it starts to get very soft and lose its shape.  When cooked, ladle the pasta out into a strainer using a slotted spoon and set aside.
To assemble the dish, ladle some pasta into each bowl, then top with a good splash of pasta sauce. Crumble over the ricotta and parmesan/pecorino. Use kitchen scissors to snip little bits off the bunch of basil, adding around 1 tbsp to each bowl. Finally, top with the cooked eggplant.
When eating, you stir the ingredients through so you get a bit of everything in each mouthful – the different flavour combinations are mouth watering.