In December, my family was invited to an Italian wedding anniversary party – a great night, with course after course of wonderful food and a round of coffee to finish the night off. But this coffee wasn't like anything I had tried before – it was served as shots in double walled glasses, black and syrupy with a brown foam on top, and tasted just like drinking a liquid coffee bean. I knew then I had to learn to make the same thing at home. I knew I needed an espresso machine, so I gave the wife fair warning to expect new gadgets, and started shopping.
After a bit of research, I discovered the Mypressi Twist. This is a handheld device for making true espresso coffee. It uses small gas cartridges (used for soda water and whipped cream and available anywhere) to force hot water through ground coffee at high pressure. The resulting 'shots' of espreso can be drunk as-is, or added to hot water and/or milk to produce any kind of coffee.
It is straight forward to use. You twist the water chamber off the handle, and pour in some boiling water to preheat the device (this is important as the temperature of the water used makes a big change to the flavour of the coffee). You take some ground coffee and tamp it down in the basket. Then empty the water chamber, drop the basket into the handle, screw the chamber on top and pour in some more boiling water. Fasten the lid, hold down the trigger, and in 20-30 seconds you have your coffee!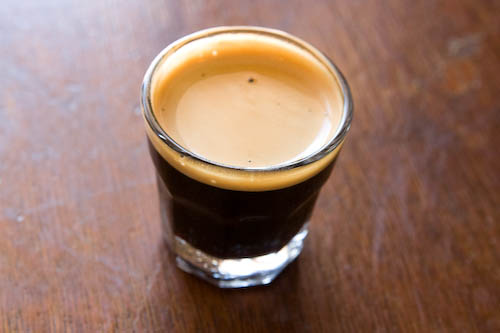 So how does it perform? I'd have to say it is pretty good. Milk based drinks are always delicious, and my wife can't go without her morning (and afternoon) cappucino now or else I'll hear about it. I have been drinking a couple of espressos per day and they are mostly very good. A slight drawback is that it is a little harder to get temperature consistency between shots unless you very carefully time how long you preheat etc. Some of my shots are certainly better than others and I think temperature plays a part. It seems like the hotter the better for espresso, and sometimes I will do the preheat-with-boiling-water step twice, boiling the kettle fresh each time I refill it.
You'll need some way of frothing milk if you want cappucino style drinks, but there's a couple of good ways of doing it. A lot of people use a small coffee plunger/french press, plunging the plunger up and down until the milk froths up. I usually use one of the small battery powered frothing wands, which works well too. Neithermethod is as good as steamed milk from a bigger machine with a boiler though.
Included in the box are standard, pod and pressurised baskets and an attachment with 2 spouts. The water reservoir holds enough to make 2 single shots, and the double spouts pour quite evenly into 2 cups at once. The pressurised basket is for preground coffee or coffee that isn't ground properly fine enough for espresso – if this is the case, water flows through the standard basket too fast no matter how hard you tamp. Real coffee snobs seem to frown on the pressurised basket but it works well enough for me – my grinder doesn't quite grind fine enough to use the standard basket. Note that you will need a decent burr grinder to get the best out of this or any espresso machine, and a decent powered model starts around the $300 mark. A cheaper alternative that seems to get good reviews is the Kyocera hand grinder – I'm thinking about getting one of these myself.
Conclusion
After using the MyPressi 3-4 times a day for a month now I strongly recommend it as a budget alternative to an espresso machine. It makes a great cup of coffee and the unit itself is well made and stylish, and very portable. I think I will still get a bigger machine one day so I can steam my milk, make espresso at a consistent temperature and make coffees more quickly for entertaining. But when I do, the twist will become a nice upgrade for my office plunger. Paired up with the Kyocera grinder I think this would make an amazing tool for camping or travel too.
Sources:
I'm in Australia and had to go to a local specialty coffee store, Simply Coffee to find one of these for $200, which was $50 less than the best price I could find on ebay.
In the US, try ebay and Amazon. They seem to go for USD$150 plus shipping on ebay, or you can find them here on Amazon for the same price but with an offer of free shipping.