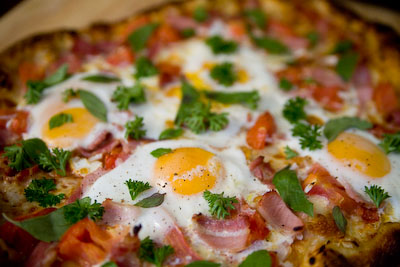 A bacon and egg pizza has been on my mind for a while now, so with a cool sunny morning on the weekend it seemed like the perfect time to do some morning baking in the wood oven! This is the first breakfast pizza recipe I've put together and while it wasn't an unqualified success it was quite delicious, and I'm going to enjoy tweaking the recipe.
A note on ingredients – most commercial bacon is made by injecting pork with a solution of brine and phosphates so that it retains water and weighs more when it's sold. They use liquid smoke and other additives for flavouring. While any bacon can taste good, I prefer to buy bacon from smaller producers who care about the quality of their products and minimise the chemicals they use. If you can find such a producer at a farmers market or specialty store, or even direct from the farm, stock up – the taste of traditionally cured and smoked bacon is worth the hunt!
You could vary the ingredients to include other breakfast favourites but I chose to keep it simple with onion adding some crunch and tomatoes contributing acidity and richness that goes well with smoky bacon. I chose to dice rather than slice the onions, to give a layer of texture underneath the bacon. Tearing the bacon adds to the presentation a little and makes for more interesting, varied mouthfuls.
This recipe allows for topping 2 small or one very large pizza.
Bacon and Egg Pizza
1/2 a Brown Onion, diced finely
1 ripe Tomato, coarsely diced
3 Rashers of bacon, torn into manageable pieces
Fresh herbs to garnish
4-6 Free range eggs
Mozzarella
1 Quantity dough of choice
Olive oil
Salt & Pepper
Shape the base, and place on a floured peel. In a bowl, sprinkle the tomato with a little salt. Place the pieces in a sieve and allow to drain. This will remove some moisture from the tomatoes and give them a little flavour kick as well. Drizzle olive oil over the base, then add tomato sauce followed by a thin scattering of mozarella.
Scatter the onion and tomato over the base. Add a little more cheese, then the bacon pieces.
At this point you need to make a decision about when to add the eggs, based on how well you want them done. I cooke my pizza in a wood fired oven for a minute before I poured on the eggs. This resulted in quite a runny yolk which was great to dip pieces of the crust into. If you are cooking in an indoors oven with a pizza stone, allow a few minutes for the eggs to cook to runny or put them on at the start if you like well done.
When adding eggs, you can choose to beat them in advance or pour them on whole. Whichever approach you take, have all of your eggs cracked and ready so you can get them on quickly and the pizza back in the oven. If using whole eggs, think about the position so that you can give guests an egg on every slice. The next improvement I will be making to this recipe will be to use large egg rings on the pizza – it is quite hard to get them to land where you want! I think egg rings will allow a little white to leak out around the edges and look nice, but hold the eggs roughly where I want them.
Once cooked, scatter with some fresh herbs. It's hard to go past parsley for a classic egg pairing; I used basil from my garden as well. A final note – you could easily make mini pizzas following this approach, and I bet kids would love having their own breakfast pizza with an egg in the middle!